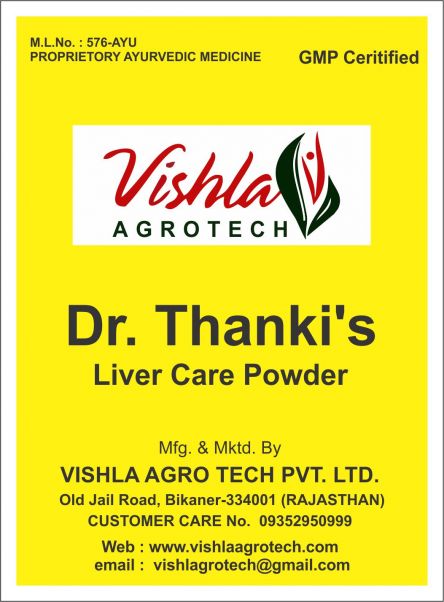 Dr Thanki Liver Care Powder
Note: Each time it is necessary to take isabgol husk before taking this medicine.
Patient should take: light food , leafy vegetables, fruits, curd, and milk.
Avoid: More oily and gravy food, gud (sugar palm), pickles.
Ingredients: Bhringrajj, Bhumi-Avla,Tulsi patra, Kasni, Harad, Punarnava Mul, Giloy, Avla, Revat chini, Vaywidang, Sarpunkha mul, pitta papada, Talis-Patra, chitrak chhal, Karchur, Nishoth, mulethi, rohida chhal , Makoy, Kasaundi, arjun chhal

What is Liver

The Liver is a gland that secret enzymes to help in the digestion of food. After the brain, it is the master organ of our body.

Description

It is the modern age and people have no time to look after their health. Due to the lack of time they use to take junk food, fast food, And stale food which causes disturbances indigestion, they suffer from different types of related problems.

Liver related problem:

Liver Enlargement

Enlarged spleen

Swelling in Liver

Jaundice

Constipation

Indigestion

Low Appetite

Indigestion During Pregnancy

Gas Trouble

Dirty Gas

Liver Psoriasis

And so many other Liver related problems.

The speciality of Our liver Medicine:-

The sufferer of the Liver problem has less enzyme secretion, which causes Dry Stool and Dirty Gas Trouble. This medicine helps in this type of pain in a short period if taken as dosages suggested by the physician.

As healthy Liver can digest food in taken hence give healthiness. Everybody knows that is the Liver a master organ human body to send food, medicines to the right place. A person with a healthy Liver as the medicine will go to a proper place, so it helps to recover illness fast.

Dosages For liver care medicine:

3/4 tsp mix with one cup of fresh water and left for 30-45 minutes to settle, then stir properly and intake twice a day for general patients and thrice a day if the condition is acute or chronic or advised by the physician.

If a patient cannot take this medicine in this way or if the medication is to be given to a child or an infant. Then we suggest the following method to make the extract:

Boil four teaspoonfuls of powder in 250 ml of water on low flame till 100 ml of water evaporated. Then cool & filter and pour into a bottle. It would be the best liver tonic than any others available in the market. This tonic extract is the best for the patient who does not like powder medicine with water.

DOSAGES OF THIS EXTRACT:

| | |
| --- | --- |
| For an infant: | 1 tsp thrice a day |
| For baby: | 2 tsp thrice a day |
| For Adults: | 4 tsp without water 3-4 times a day, or as directed by the physician. |

Ayurveda Herbal Treatment for Thyroid:-

Our Researchers suggest a combination of our three Ayurveda Herbal medicines produced by us.

Dr.Thanki's Liver care powder

Dosages: 3/4 tsp mix with one cup of fresh water and left for 30-45 minutes to settle, then stir in and adequately take twice a day.

Dr Thanki's Blood Purifier capsule:

One capsule twice a day.

Dr Thanki's DVT protector Add on vitalizer:

Take 1 tsp of psyllium husk with fresh water, and after 10 minutes, take 1 tsp of this medicine with freshwater, twice a day, and if the patient's weight is more than 80 kg, then take the dose as same for three times a day.

The patient can take light food, leafy vegetables, fruits, curd, and milk.

Patient Can't intake: More oily and gravy food, jaggery (sugar palm), pickles, alcohol, tobacco.

Active Ingredients For Liver Care Powder

Eclipta alb

Embelia Ribes

Ocimum sanctum

Cichorium intybus

Terminalia chebula

Terminalia arjuna

Tinospora cordifolia

Boerhavia diffusa

Emblica Officinalis

Rheum emodi wall

Tephrosia purpurea

Fumaria Vaillant

Abies webbiana

Plumbago zeylanica

Curcuma zedoariae

Operculina turpethum

Glycyrrhiza glabra

Tecomella undullata

Solanum nigrum

Cassia occidentalis

Phyllanthus urinaria

​

Troubles And Problems a person face when master gland organ Liver is sick:

When a person having poor liver function faces health challenges, low mental sharpness, or a general lack of vitality, frequent headaches & Poor liver function can trigger high blood pressure.

It can create autoimmune disorders such as inflammatory conditions, muscle and joint pain, and chronic fatigue resulting from a toxic liver. Another by-product of an unhealthy liver is the presence of dangerous blood sugar levels in the body.

Gallbladder problems and gallstones can also be a result of poor liver function.

In summary – when your Liver is not able to effectively cleanse your blood, all the toxins you ingest and that are also absorbed. Are then passed virtually unchecked back into your body systems where they can negatively affect every cell.

Disclaimer: The result may vary from person to person.

From the desk of Chairman

Our company engaged in researching Ayurveda Herbal Medicines with a combination of herbs, shrubs, and Bhasma. As in our holy books, there is no herbal extract written anywhere. It's written for wild herbs. Ayurveda does not permit any Medicine of herbal extract; hence we decided to make our products with the best quality pesticide-free herbs & shrubs.

We succeeded in it now. Dr. Thanki's Liver care powder proves the valuable, useful, combination before you.

We found excellent results of this Herbal Ayurvedic medicine on any Liver patients.