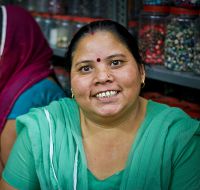 Story Title : TAROO DEVI-36yrs-(Breast tumor with bulky uterus)
Patient Age : 36 years old
Date : 03-02-2014

Patient Review:-
My name is taroo devi w/o of shri shyam kishore residing at village devli dist. sakpura .
bihar.
i was suffering with a tumor in my right breast and also suffering with mensuration problem. one ladies told me about dr sambhu kumar singh in train and so i went to him at Hazipur. The Dr given me only two medicines by which i found almost cure in mensuration problem and also relax in tumor in breast. i again visited to him after one and half month again he given me medicines and by those medicines my tumor was totally disappeared.
i am giving my best regards to Dr. sambhu singh.
Before that i visited so many Drs but did not get ant relief. Now i am quite fine. As at present there is no problem in mensuration neither there is any tumor in my breast.
Our WebSite :- Vishla Agrotech