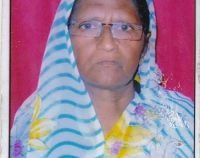 Story Title : SHASHI SINGH- Oesophagus Cancer- Neoplastic-2nd stage
Patient Age : 65 years old
Date : 11-07-2015
Yes, the cancer be cure of oesophagus though second stage proven
Treatment started from 7 july 2015.
SHASHI SINGH Oesophagus Cancer Neoplastic 2nd stage Patient Review
My name is Anurag Singh residing in Pratapgarh U.P. I am writing about my mother, Smt. Sashi Singh, aged 65. In early 2015 my mother was complaining about a gastric problem. I showed her to Dr. Alok Mishra; he prescribed some medicine to her. Still, no relief was found; we made USG Abdomen in which nothing was found.
Still, gradually she could not eat anything as it comes out of her mouth. Some severity was expected. I took again to the Doctor.
He then advised for Endoscopy to find some tumors they took a sample and given to testing as Biopsy to Isitha lab on 28.6.2015 we got report finding of carcinoma cell present.
On 1.7.2015, I took her to get CT Thorax/Chest then found it was 2nd stage. Neoplastic carcinoma spread from the intestine to the esophagus and Gut line. As it was horrible to go for Chemotherapy, we took to hospital Smt Kamla Nehru hospital. They tried for chemo, but she did not bear that.
As we have no option now, I have already lost my father. I was in much distress during those days. I was talking about my mother's seriousness to some of my friends and relatives.
One of my relatives from Bikaner told us about Dr. Kochar, who successfully treated so many cancer patients. He is an organized Vishla agrotech Pvt ltd ayurvedic manufacturer unit for crucial and chronic disease. I immediately arranged a ticket, and on 6 July 2015, I took her to Bikaner. Dr. Kochar saw all the reports and ask my mother to be comfortable. Within three days you can bring food quickly, it was unbelievable for me.
He made some blood reports and started Dr. Thanki's tum can capsule ten in a day as per my mother's body weight, and she started taking ten pills divided into three times a day.
After three days, my mother is quickly taking food; a miracle was seen to her. Since that day, we are always in contact we Dr. Kochar. He gave me medicine for 45 days.
We gave six cycles of this medicine for 45 days and followed the diet chart strictly though my mother was 65yrs old at that time. Now she is 67 years old; we are regularly checking up on her blood test and informing Dr. Kochar. Weare is giving all medicines advised by Dr. Kochar regular.
In May 2017, we checked USG Abdomen found no mass but found some stone in the Gall's bladder. We contacted Dr. Kochar he suggested the gall bladder stone may lead to liver cancer, so we immediately removed the gall bladder. We again go for a CT Scan of the Whole Abdomen in that only gall stones were found, no mass tumor found in the Esophagus or any part of the intestine, only gall stone found.
We operated the gall bladder as removed. Now Dr. Kochar advised taking a booster dose after every six months to avoid cancer recurrence again.
After stopping this medicine, he advised me to give Dr. Thanki's blood purifier cap and one bowl of papaya every day.
Those who are reading this, I suggest to take ayurvedic medicine because it works secondly follow strictly diet chart as diet is a part of treatment.
My name is anurag singh gram bhagipur tehsil ranigunj dist pratapgarh up mobile no +91-9452703622