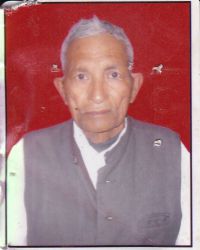 Story Title : SANT RAM-72yrs-PKD WITH CKD
Patient Age : 72 years old
Date : 02-07-2016
Till taking medicine as a case of pkd, he is taking homoeopathic medicines for cyst.
Disease:- gb sludge & concretion with thickened gb wall.
B/l renal cortical echogenecity mildly raised.
Mild prostatomegaly.
Treatment Given:
| | |
| --- | --- |
| Cap Urimax | 1 At Bedtime |
| Cap Dexorange | 1-1 |
| Tab C. C. M. | 1 |
| Dr Thanki's Kidney Care Capsule With Anupan | 3-3-3 |
| Tab Folvite 5 | 2-2-2 |
| Tab Zyloric 100 Mg | 1-1 |
| Inj. Vitcfol 3 ml | For 45 Days Continue |
Still, the patient is taking medicine, and he is alive by God's grace to collect the treatment only.
SANT RAM-72yrs-PKD WITH CKD PATIENT REVIEW:-
I Pawan Kumar Aged 28 years writing this review my maternal Grandfather Shri Santram Ji Aged 72 Years; He is permanently residing at Meerut.
Almost three months before he was suffering from fever, he felt too much weakness during that time. I took him to Yug Hospital Meerut they admitted my maternal grandfather and after an investigation found ANEMIC condition and the Doctor Suggested. To put 1 Unit of Blood after that, he met with some other complication like Vomiting and other symptoms.
They shifted to I.C.U. And after an investigation found heart attack. The Dr. of Yug Hospital referred to METRO HOSPITAL, Meerut in METRO HOSPITAL, put 2 Unit of Blood and treated for the heart. After an investigation found that due to heart attack damaged the heart and Ejection Fraction became 25% as my Maternal grandfather is more than 70 years, Dr. did not do goodbye-pass or put stunt in the heart.
After that investigation, both kidneys become already damaged and control S. Creatinine and Blood Urea the made six times DIALYSIS. During this period, we came to know about VISHLA AGROTECH PVT. L.T.D. BIKANER. I Immediately got an appointment from their Dr. and 30-05-2016 we came to Bikaner. Here his Dr Kochar Done some tests and USG ABDOMEN and found that prostate gland Enlarged to 30gms. And there was mild concretion and Sludge in Gall Bladder, and both the Kidneys are Supposed to be damaged.
The X-Ray of Chest P.A. view was normal. As we have already done the heart investigation, the Dr. gave 40 Days medicine and advised to continue some Metro Hospital medicine. Today on 9-7-2016 we again come to BIKANER and explain the experience we have during those 40 days.
During 1st ten he was talking food as usual, and after that gradually he lost his appetite, and after some days he suffered from fever as per the advice of Bikaner Doctor we to for checkup. Of Widal and Hb. And found Widal was negative and Hb. 9.4.
We did not do any DIALYSIS neither we gave any injection for increasing blood nor put any blood unit. At Present, is getting nausea and Vomiting while taking food.
During this period, we did not give any blood infusion or any blood increasing injection.
20.8.2016
I Pawan Kumar aged 28years again came to Bikaner today and writing about my maternal grandfather Sri Santramji who is residing permanently at Meerut city.
I have written every detail we came to Bikaner last time on 9.7.16 he was quite sufficient for some days. Still, after that, he felt weak when we did not go for any blood check up on 16.7.2016. He started vomiting during that period stopped the treatment of kidney due to family reason I can't come to collect medicine from Bikaner.
Hence, we called Dr Kochar and explained that he suggested a checkup of blood on 17.7.2016 we made checkup and found Hb 5. In contrast, it was 8.2 on 9.7.16 the blood urea 168.3 previously it was 158.3 s creatinine found some decrease as 5.7 once it was 6.5 sodium was 136 which was 119.79 the K 4.8 was the same. Still, there were dramatical changes found inSGOT AND SGPT yet. It was 75.6 and 103.4 now it was 19.1 and 28.5, so it shows if Hb increases there might be a relief to my patient as we did not give suggested medicine by Dr Kochar now we repented and again started the treatment regularly. When we gave drug regularly, we found the benefit also, and he was quite normal.
I want to suggest the reader of this review that stopping of medicine is dangerous for a kidney patient and one should take regularly prescribed medication by Dr Kochar. However, I came so many times here but never found any change in Dr Kochar's behaviour; he did not act as a Dr he never hurt any patient or his attendant.