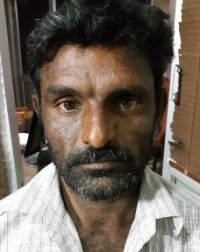 Story Title : RAMKARAN GODARA-40yrs-Kidney Cancer
Patient Age : 40 years old
Date : 29-11-2017
Name:- Ram Karan Godara Age:- 40 Years Add:- Malasar,Bikaner
Disease Description:- Cancer In Kidney and Echo texture is Normal.
Treatment Given:-
1.Dr.Thanki's Tumcan capsule:- 4cap x 3times a day=12 cap daily
2.Kachnaar Guggle:- 4tab x 3times a day=12 daily.
3. Advise:- Strictly Follow Diet Chart.
Patient Review
Review from Ram Karan Godara (Kidney patient)
My name is "Ram Karan Godara" belong from Malasar,Bikaner,Rajasthan.
Suddenly on dated 29.08.2014, in the night I felt little irritation in urine tube and also felt some Interruption in same palace and sudden severe pain began. The pain was beyond penis. My parents took me to the P.B.M hospital, Bikaner at night. First of all, Doctors gave me primary treatment, which was specifically given medicine to numb me. I was not conscious from 12 hours and did not realize the pain. 12 hours later, during urination I felt that, something would be come out from urine tube and I was right because after some time a bit came out from urine tube and the pain were absolutely fine.
On dated 14.11.2014, the same problem started back again at night and early in morning at 5 am, something came out forcedly from urine and I felt relax but I did not know that, what was it…?
Now on dated 17.11.2014 I did CT scan and that day urine came out with red color I mean it looked like blood and also came out blood clots. Around 5 pm the same day, a thread which was looked like 6 inches x 1 ml with black color came out with urine and after this I felt fine and relax. In the CT scan examination revealed a lump in my left kidney.
Then on dated 18.11.2014, I was admitted in P.B.M hospital where 6 days after, I had to be operated. On the day of operation, the doctor told me that" we have to be remove your left kidney with your lump so after heard that I refused surgery and came back to my home.
My uncle name is "Rameshwar Lal Godara and also belong from malasar. I share with him about my problem, so he advised me for go to "Vishla Agro Tech (P) Ltd. for treatment of my problem because my uncle's wife was also a kidney failure patient and she cured and treated by this company and she is now fine and OK.
Finally on dated 28.11.2014 I reached there and met to the doctor and showed my all reports. He also did sonography (USG Adboman) and some other tests of blood and find out that there was a lump of cancer in my left kidney which size was 5.62 x 5.87 and it covered 1/3 part of the left kidney. The doctor told me that" at this time this lump in kidney and it can be harmful for only kidney and yet the effect of the lump had not on other organs of body. He gave me medicine for 25 days and advised me to come back after 25 days for next tests.
Today on dated 23.12.2014 I did sonography (USG Abdomen) and some other tests of blood. According to USG Abdomen reports and other tests, result was like below:-
Lump size was little decreased and lever was completely healthy.
Lymphocyte was reduced from 30 to 27.
Platelet count found 2 lakh.
Now doctor sent all old and new reports to sonologists "Mr.Ashok Ojha" for comparison and asked for suggestion so he replied that" These tumors do not grow and also shrink, which shows that the drugs we had proved to be effective. I also agree with them, because during these 25 days I have no problems like previous. I am a artisan of build house and I was go at my work during these 25 days without any pain and problems.
Today doctor advised me for go to the work regularly and gave me same medicine for 1 month as doctor Ashok Ojha advised and also gave me other medicine which name is "Dr.Thanki's Stone Powder" for gain blood, power of body and cancer stem cell to loosen for 1 month and also said me for come back after 1 month for next tests.
Ram Karan Godara
Malasar,Bikaner (Raj.)