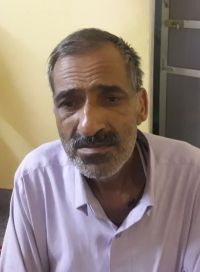 Story Title : Ram Kishan-45yrs-Liver Metastatic cancer
Patient Age : 45 years old
Date : 18-04-2018
Patient Reviews: My name is Mahipal residing at paradisal aged 48yrs. I am writing a description of my brother-in-law Sri Ram Kishanji living in Salatpura Bawad old 45yrs his disease.
In 2017 in July, he felt pain in the stomach; we took him to Rewari, where Dr. Arora saw him given some medicine after some investigation but did not get relief from those medicines. Hence, we took him to Jaipur. There we went to Dr. Nepalia; he again investigated then found a block in between the stomach then. We admit to Santokba Durlabhji hospital, where they put a stent. He feels ok, but after two months, it again shocked us; we also took him to Dr; that time, he again put a stent in the stomach. Then we gave three cycles of chemotherapy after chemo the situation became worst. He stopped eating his Hb become low when Pandit suggested going to Bikaner to Dr. Kochar; we took him to dr Kochar.
Dr. Kochar has done some blood tests and said the side effect of chemotherapy occurred; he gave his ayurvedic medicine for 16 days and asked us to come back. Gradually, his condition improved; he could now eat properly, but he felt some feverish on the 24th. We came to Bikaner again. Dr. Kochar also tested some blood reports found uric acid absolute normal but found typhoid fever he started treatment of fever and given medicine for 37 days. His Hb increases almost 3 points from today; he advises to take eight capsules a day. We are now confident that by the medicine of Dr. Kochar, he may cure very soon.
signature Mahipal dated 24.4.18
My name is Pawan Kumar residing at Muloki, aged 36 years. I am writing a description of the uncle in law Sri Ram Kishan. We came on 24.04.18 and took medicine for 35 days, by which he felt the significantly better result. After taking treatment from where he can eat properly, his weight is increasing, and reports are also excellent, and it is happy news for all of our family members. Today on 28.05.2018, we again came here; the Reports are fair, so we took medicine for 50 days. We hope for some rays from Dr. Kochar's treatment.
Ram Kishan-45yrs-Liver Metastatic cancer Treatment