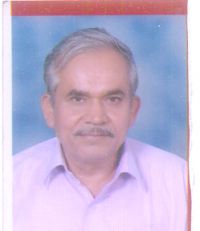 Story Title : RAJENDRA PRASAD SHARMA-61yrs-Skin Psorasis
Patient Age : 61 years old
Date : 14-12-2013
RAJENDRA PRASAD SHARMA-61yrs-Skin Psorasis Treatment
English translation of Er R p Sharma's review:
My name is Rajendra prasad Sharma s/o Shri Bhairon Prasad Sharma, residing at Shanti Nagar colony, Gadarwara, Dist. Nursingpur, Madhya Pradesh.
In 1991-1992 I was suffering from bleeding from the nose. This problem continued for one year, before that in 1981-1992, I was suffering from a kidney stone in my urinary tract it always found in each x-ray report. In 1981, 1985,1988, 1991, and 1992 the kidney stone was removed; after that day, I did not suffer from this problem again. For kidney stones, I have taken tablets of Cystone for a more extended period.

When I was suffering from bleeding from the nose, I have to put tobramycin ointment in one nos trill of the left side and pack with cotton instead of only bleeding. Though after one year, I get rid of it, I lost my smell power.

In the year 1994-95, there started some black spot on my both thumb of feet. Within a short period, both the nail of the thumb become destroyed and look ugly; then I consulted Dr. who advised me of some medicines by which it becomes cured. Still, after some time again, it repeated, but after taking medicines, cured it in 1996.

In the year 2000 again the same problem started on the nails of both thumb of feet, but after taking some medicine, it becomes cured.

In December 2003 io found itching on my head and after itching on it releases blood.

When consulted with allopath Dr, they diagnosed it as psoriasis and declared it not curable. They advised me that some medicines may control it; after that, it spread ed in my whole body, found swelling in two fingers of my hand. Then I visited a Dr. at Bilaspur Skin specialist who prescribed me Methitrexate steroid to me by which the problem somehow solved, but as soon as I stop the medicine, I found red roundworms on the entire body.

Then in May 2004, I went to Pangara village of tehsil Nraini of Uttar Pradesh. Where I met with Dr. Sri Madan Gopal Bajpapee, B.A.M.S. has their naturopathy center. I stayed there for 54 days for the treatment. They banned salt in food, 15 days dependent on fruit, and for seven days, they provided me only honey and water. I lost my weight from 68kg to 51 kg. In their treatment, they have given me a steam bath, oil massage, enema, cow urine mixed with Multan soil, and applied it to the entire body, and after dry, I take a bath. They have given me panch karma treatment. After that, I feel there was no problem with skin psoriasis.

But just after one year in 2005 I again found the same problem which is a crucial problem to date to me. Again I started Methotrexate steroids to control it. But I feel my immunity is going down day by day.

I also took medicine of Baba Ramdeo's Divya pharmacy medicine for this disease as Kishore Guggul, Kayakalp Bati, and others as prescribed by their outlet Dr. but in vain.

Now I feel weak and feeling moving of earth very fast, but I found the same wounds with burning sensations when I stop it.
For two months, I have pain in the right hand's wrist, and fingers of the left leg, and Dr. declared it as psoriatic arthritis. Now the problem is reaching up to every joint of the body.

On 18 March 2012, I came to Bikaner to this company and met with the Dr. and showed him the reports he advised on the phone before this as CD4 Count, C.B.C H.I.V. test.

CD4 COUNT + Lymphocytes count 493 found but found H.I.V. negative. The company Dr. given medicine for one day, and I found to relax in itching.

Today 18.3.2012, I was advised to take one tab of ondansetron (Ondoc 8mg) first, then take three capsules of Dr. Thanki's Can Rose capsules. After 10 minutes, four capsules of Dr. Thanki's Tum Can capsule in sonography found liver enlarge and echotexture bright. Dr. suggested taking Dr. Thanki's Liver care powder, Tablet Silybon 140 twice a day, and Syp Amlycure DS two tsp twice a day.
Along with this, Dr. suggested for Dr. Thanki's Immune Booster (aids powder) 1tsp twice a day with fresh water. I found some loose motion problem, but I have taken Tab Septran two tab instantly to relax. On the first day, I found 80% relaxation in itching and burning.

On 20.3.2012, JUST ON THE THIRD DAY OF TREATMENT, I FOUND FULL RELIEF IN ITCHING AND BURNING AND FOUND ALMOST ALL WOUNDS BECOME DRY.

I will continue the medicine and will share my experience in the future.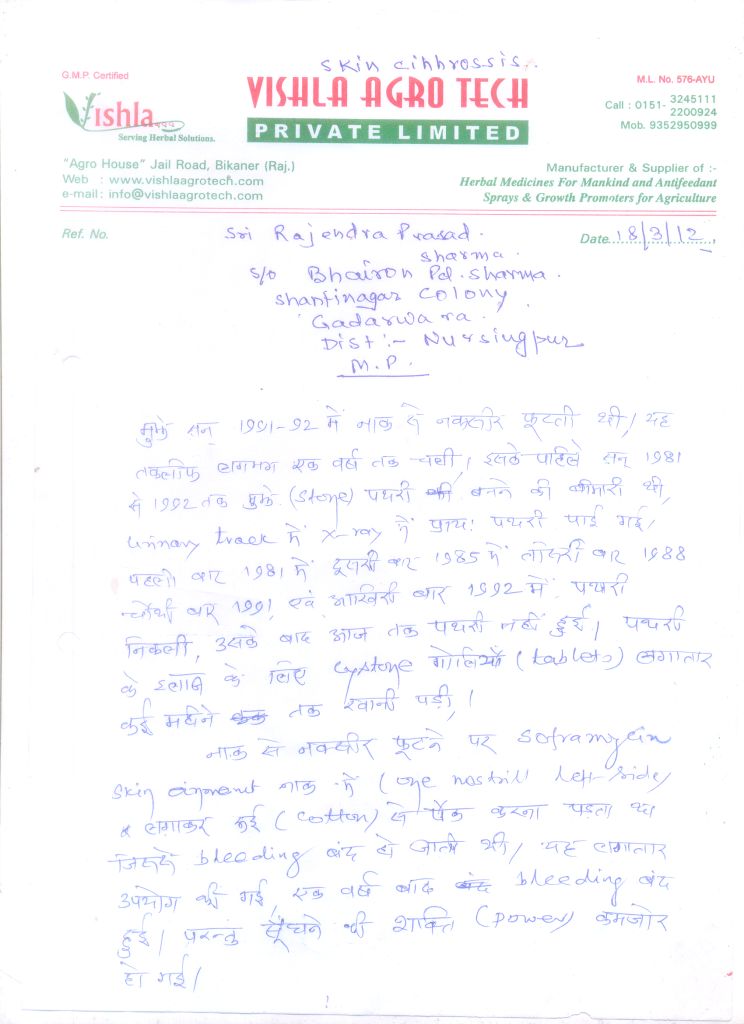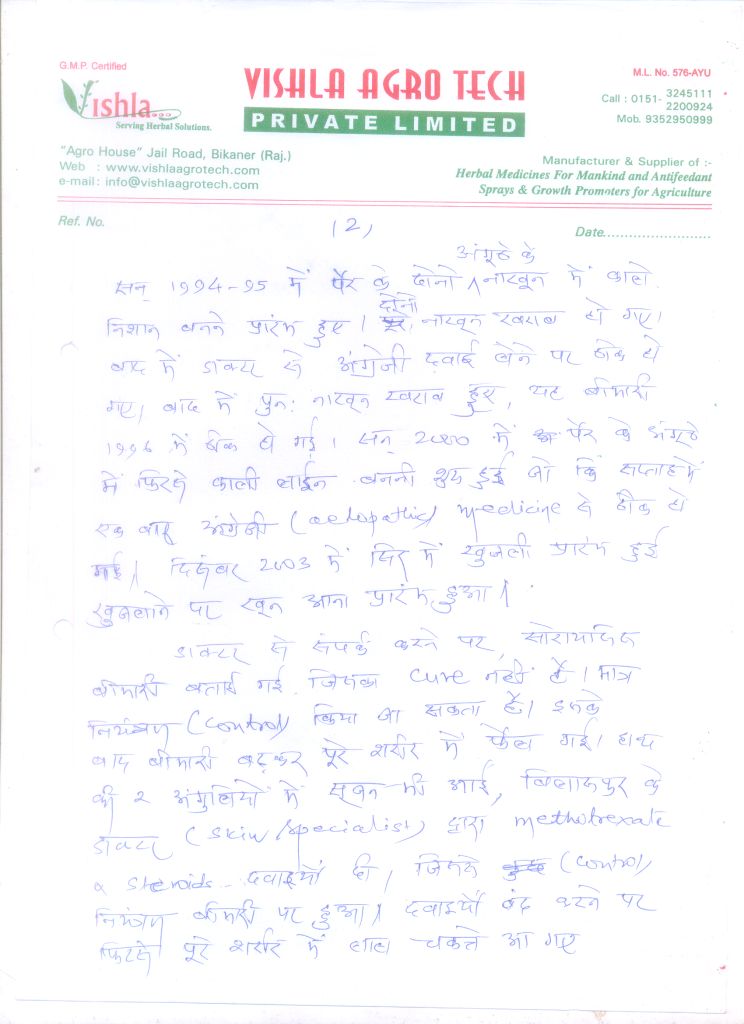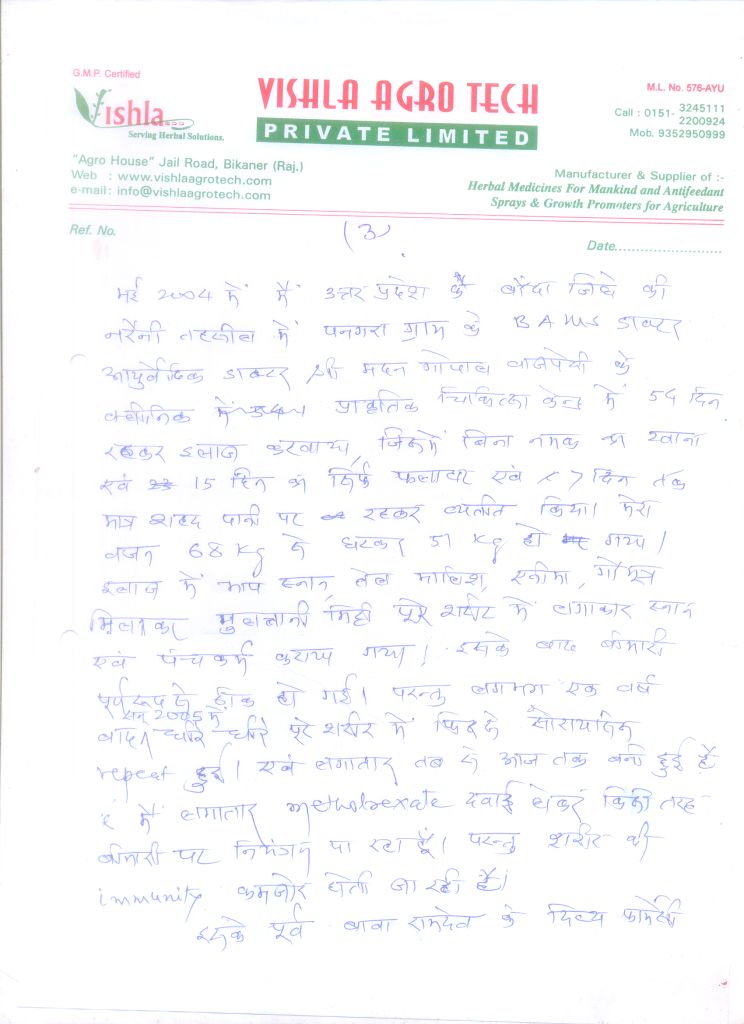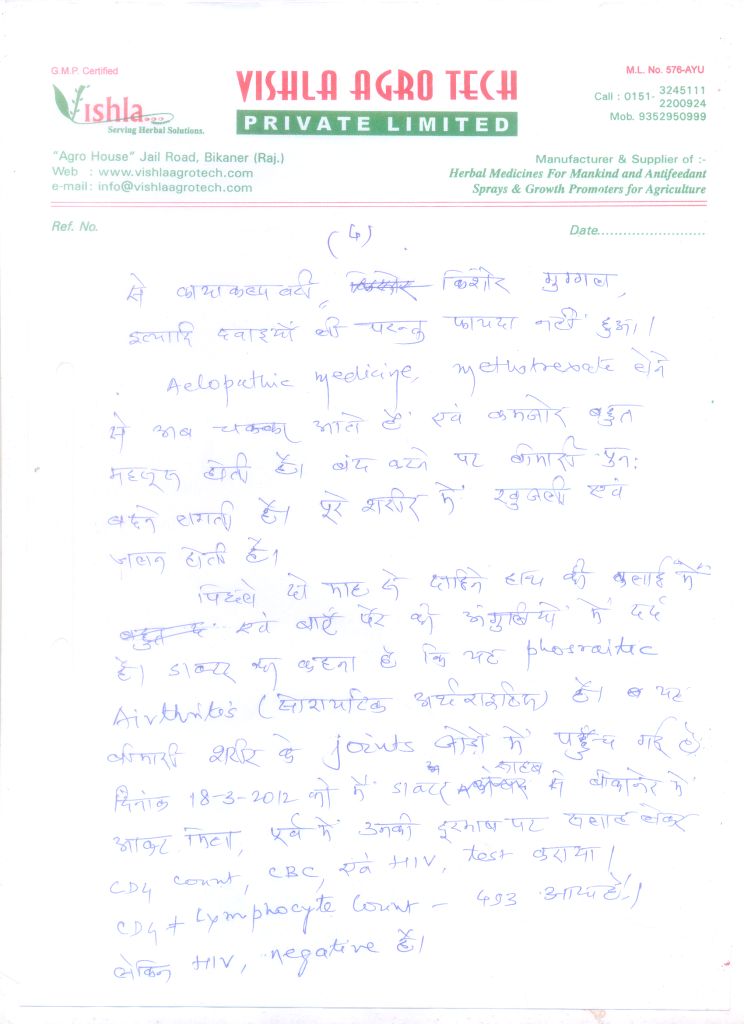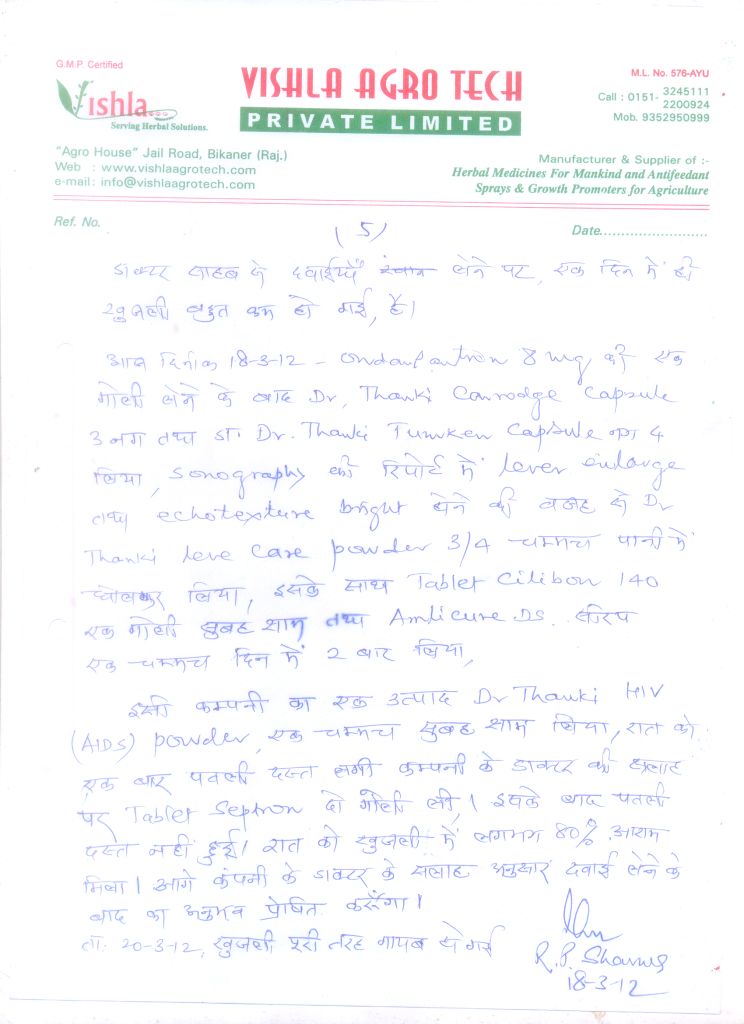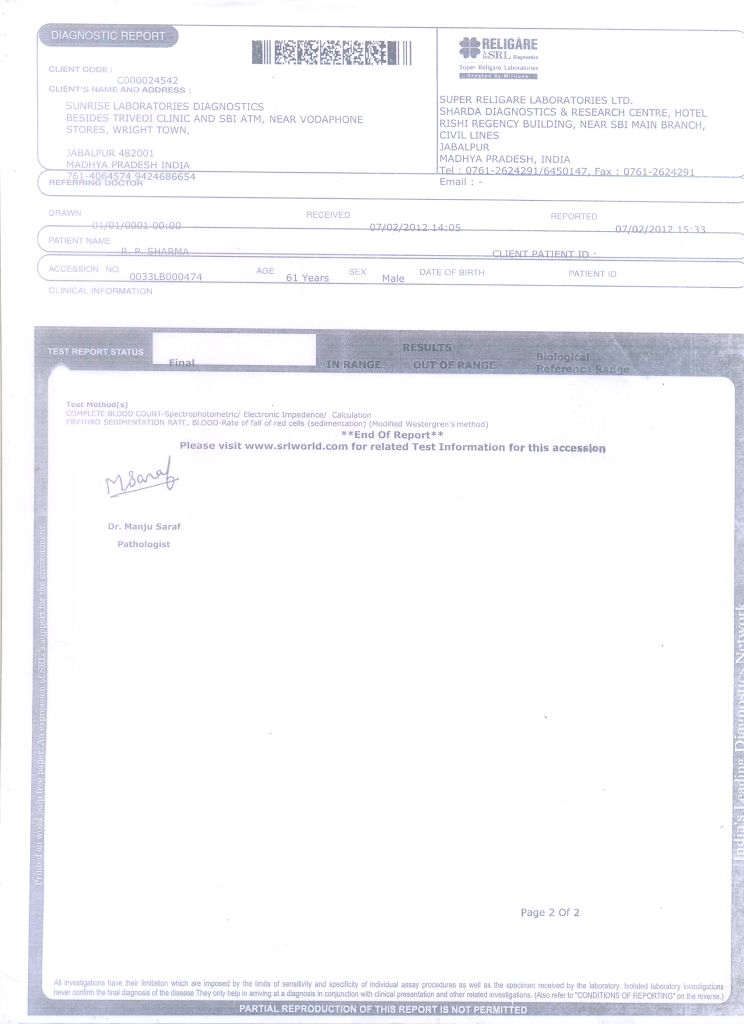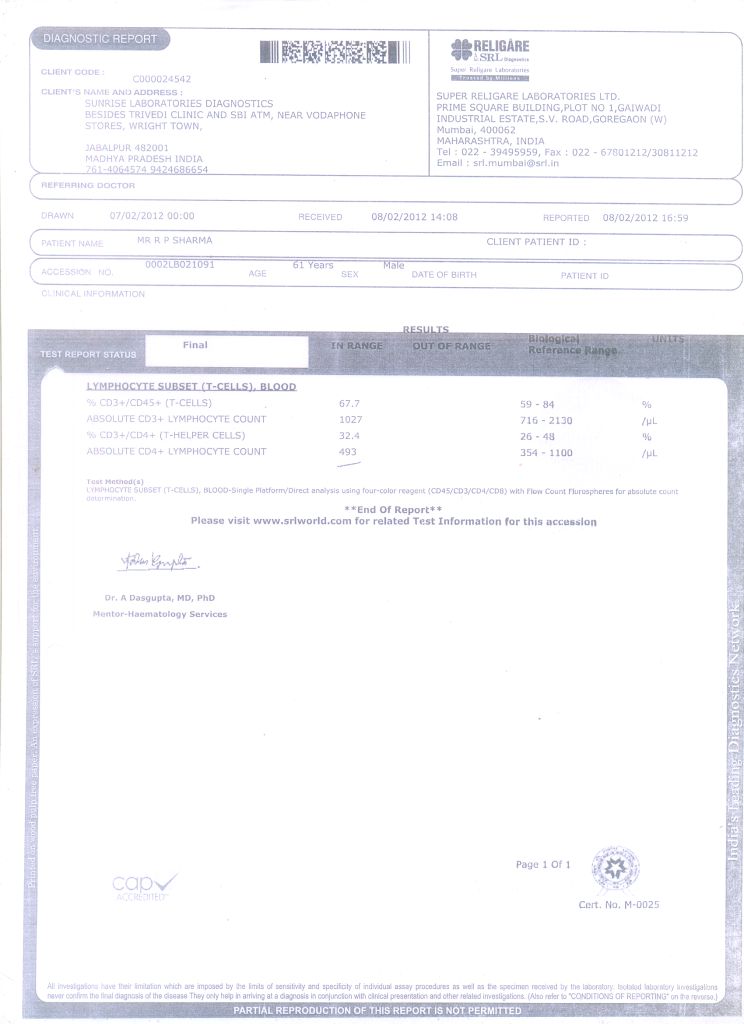 More Skin Psorasis patient Stories