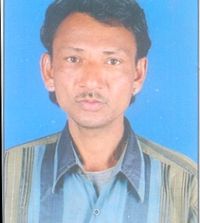 Story Title : PREM HANS LAKHARA(Brain Tumor-Cancer)Age - 40yr
Patient Age : 40 years old
Date : 27-09-2013
Brain tumor ayurvedic treatment - Cancer Treatment By Ayurvedic Medicine
THE PATIENT IS NOW NORMAL WITHOUT ANY MEDICINE WE CAN SAY CURE FROM BRAIN CANCER TUMOR
PATIENT REVIEW on Cancer Treatment:
Brain Cancer Tumor Patient Prem Lakhara Life Story
Mr.Prem Hans Lakhara is patient of Brain Tumor (Malignant) he was first found before 10 years as dis-command over his brain he often use to do awkward events which shows him as mad so the family members took him to the doctors at jodhpur and treated by some medicine and become cured. For the last ten years the medicine was already given to him and was controlled.
Though those medicines were continued but again he found same symptom as it was in starting period. The family members took him to Jodhpur doctors they advised him to go to Ahmadabad where he declared as brain tumor patient and some free fluid found in his brain. The surgeon of Ahmadabad planted a pipe from brain to stomach to discharge free fluid from brain. They prescribed some medicines also. This happens in January 2013.
Brain Cancer Tumor by Radiation
They advised to give radiation to him. But the family denied and as they don't have such money to go for radiation.
As the doctors of Ahmadabad has declared the tumor as cancer tumor the family members become hopeless. He was having a complaint of blurred vision or vision loss, bad smell in mouth always, headache which occurred often, he could not sit properly in his job as he is doing the job of making garland of small bids so eyesight should be proper, he was claiming of sex power. One of his brother in law by name Murlidhar lakhara who is residing at jodhpur. He was informed by any person of Pali about us and they took him to our company.
They took him to our company on 28 Mar 2013 and delivered this history. Our Dr. suggested for check up of some blood parameters of the patient . Almost all parameters were within limits but S creatinine and blood urea were in higher side shows effect on renal section.
Our doctor started treatment and tell him to come back after 25 days. He again came on 23 rd April and our doctor this time advised to check blood parameters,USG Abdomen, and CT Scan of his brain.
In report of CBC only eosoniphill was on higher side ,SGOT SGPT were also within limits but uric acid was on higher side, USG Abdomen shows quite Norma. CT Scan shows a evidence of hypo-dense mid line mass measuring 16x15 mm. also there was evidence of mild left parietal subdural fluid collection .
Our doctors prescribed medicine for another month and ask him to come after one month.
He returned on 22nd May and again our doctors advised some checks. The report shows SGOT SGPT Blood Urea, S. Creatinine, Uric acid under well controlled limits. CBC shows all parameters in limit except W B C was in higher side. CT Scan shows some reduction in size of tumor. Our Dr. advised him to come after one month.
He returned on 20th June and this time he went for testing of urine and some general blood parameters. Urine complete report was normal. CBC shows normal but some higher side of W B C and at margin the uric acid level.
He returned on 31st July and now our doctor again advise for some tests in CBC the W B C was controlled tremendously, very few higher level of ESR was observed, SGOT SGPT Cholesterol Blood Urea S. C creatinine was found well controlled but uric acid was still on within the limit but in higher side. CT Scan shows there is no evidence of free fluid in any region and tumor also reduced as it shows calcified mass so he is out of danger now. Now he is quite fine he did not have any complaint as he explained when he came on our company first time.
The calcified mass may be surrounded to pipe planted by Ahmadabad surgeon in his brain.
Address -> Prem Hans lakhara s/o Bhanwar Lal ji lakhara,
Bhopalgarh,
More Brain Tumor patient Stories
Our WebSite :- Vishla Agrotech