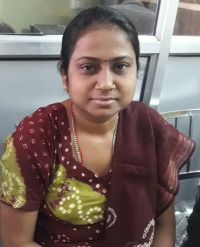 Story Title : Nikita Bhatanagar-40Yrs-CKD-Kidney patient
Patient Age : 40 years old
Date : 19-08-2018
Patient Reviews:Myself neeraj Bhatnagar husband of Nikita bhatnagar who is undergoing treatment of kidney from 18.08.18 i am residing at gurgaon.
we blessed with two kids elder daughter and younger son .From last few years she is suffering with Asthma and in the second half of 2017 year she got pain of migrane the pain was not diagnosed properly in max hospitals so we took her to columbia asia hospital that time she was sufferin with severe stomach infection.
During test came to know that her kft was not good the serum creatinine was 5.8 andultrasound report shows both kidney were shrinked she was diagnosed with CKD during treatment her serum creatinine reduced to 2.8 and she was discharged but it kept in increasing every day new problems we met with lot of medical dr they suggested for dialysis or kidney transplant
As my father in law was also a kidney patient he died of this disease. So i was not inrerested in allopath i decided to took him to Ayurveda centre i landed to Amritsar N D care Nirogam Pvt Ltd continued treatment for 5-5 months but the overall results for not saatisfactory and that company was having a good call centre just want to sell their medicine the medicine were costly too her serum cretatinine level was 5.5 . I searched on internet and found VISHLA AGRO TECH PVT LTD. i got the details from website and contacted Dr r k kochar who was very humble and kind hearted the word of wisdom enough for me to take decision on whom to continue further treatment.
We landed to Bikaner at their clinic get all the guidance before comong to their place -got the best hospitality and attention by co operative staff they also have a in house staying facility with nominal charges of A/C room Dr does not take fees .
During our interaction with Dr physically we were advised some tests -no one suggested for USG Abdomen after DR SUGGESTION WE WENT FOR TESTS WE WERE SURPRISED TO FIND THE CLAIM OF dr the kidney size become normal also .No Dr was ready for their ration. Our confidence increasedand now continue treatment from 18.8.2018 her urine output increased and weight also reduced we both were pleased to see dramtically good sign in my wife her BP was also controlled Here i am hoping that my wife gets full energy ASAP i am taking medicine for 45 days inttialy and will return within 45 days again as advised by Dr raj kumar kochar.
signature of neeraj bhatnagar
neeraj