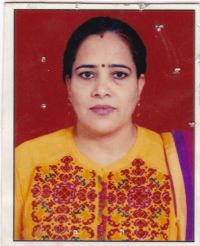 Story Title : MUKESH DEVI-52- years-CKD-PKD both -kidney failure
Patient Age : 52 years old
Date : 05-10-2017
Name:- Mukesh devi Age:- 49 Years
Add:- Delhi
Disease Description:- Both Kidneys are contracted and small in size and Echo-texture increased-CMD Lost.
Treatment Given:-
1. Dr.Thanki's Kidney Care Capsule:- 3 cap 3 times a day = 9 cap daily.(with anupaan)
2. Chandra Prabha Vati:- 3 cap 3 times a day = 9 cap daily.
Patient Review
I rampratap singh s/o shree rampal singh 77a rajendra nagar industrial area ,mohan nagar,Sahibabad writing this review on behalf my mother in law mrs mukesh devi whose treatment i am doing in Delhi. One neighbour in delhi told me about Dr raj kumar kochar of vishla agrotech pvt ltd, Bikaner. So i took her here she is having four girls all married and one son who expired in train accident so i am looking after her. After death of son from 2008 she become a patient of hyper tension and the tablet suggested by physician was continue.In 2014 she become having problem in breathing so we took her to Dr in Aligarh the Dr said her both kidney shrinked and they started medicine. After 6th month on the same treatment her health become poorer then i took her to different nephrologists they advice for dialysis, we started dialysis after 22 dialysis we came here and started medicine.
now she is feeling better we are taking medicine regular once in 45 days we are going for dialysis.
She is taking dr thanki kidney care capsule with anupan as in other case we could not stop dialysis forever still she id to go for dialysis with an interval of 45 days.