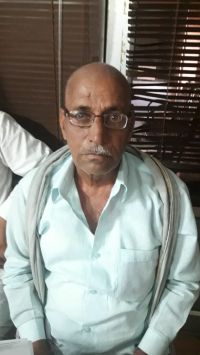 Story Title : Joraram Beniwal-62yrs-esophagus cancer
Patient Age : 62 years old
Date : 12-03-2018
Patient reviews:
I Joraram beniwal aged 62 yrs residing of Sikar .On the begining i felt problem in eating food so i showed to Dr Kailash he advised for X RAY so i done X ray in which found a tumor in gut line Dr advised me to send reports to jaipur but i decided to go myself i went on 8th feb 2018 there Dr took a piece of tumor for biopsy and second day done C T SCAN .
In biopsy found cancer in food pipe i investigated for three days and came back to Sikar in my village a lot of people become aware about my problem one of them advised me to go to Dr Raj kumar kochar of Bikaner who treat by Ayurvedic medicines.
Than on 11th march 2018 i came to Bikaner in the clinic of Dr Raj kumar kochar and explained about my disease he told to investigate some blood tests and urine complete, USG Abdomen in investigation my prostate gland was increased in weight all other reports were normal.He started my treatment.As per my weight he started dr thanki's tum can capsule 12 capsule daily divided into three parts .He stopped milk curd sugar and fruit juice . I am taking precaution and taking medicine as he adviced.
In my village i was taking medicine and strictly following diet chart after 20 days my all problem solved and i started taking food and also my health was recovering.
Again i came on 13th April 2018 to Bikaner again some test done in which all parameters were fine and good thing was my Hb increased from 10 to 10.7 i taken medicine and came back to village.
Again i came on 17th may 2018 to Bikaner again some blood test done all were fine.and the size of tumor decreased than Dr advised me to stop medicine for 1 month.
Again to day on 16.7.18 i came to Bikaner as i was suffering with cold and coryza which causes tonsil and i felt problem in eating and swelling but it was not for the sake of cancer as i feared.
Now Dr saheb gave me medicine for 45 days and ask me to come after 50 days to day also urine and blood test done my Hb reaches to 13.1 which was 10 only all reports were normal and sound.