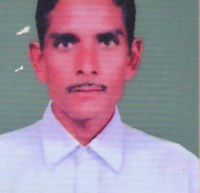 Story Title : HANUMAN PRASAD SHARMA - 45Yrs- (Naaru)
Patient Age : 45 years old
Date : 15-08-2014
Patient Review:-
Review –PART-I
I am Hanuman s/o Ram Chandra Sharma from village-Bukalsar,Vaya-panipura,Tah-Sardarshahar,Dist-Churu (Raj.) India. Almost 20 years ago from today there was a cyst in my left leg. I have operation of my leg at Govt.Hospital,Pilibanga then almost for 2 years I was fine. After 2 years I have again a cyst in my same lag. Then I went to Govt.Hospital,hanumangarh as said my relative and there doctor said me for operation and i was agreed for this so doctor did operation of my leg.
But after 10 days of operation the cyst again came. After this on dated 01.01.2014 i went to Govt.Hospital,Sikar as said my another relative but again happened like previous and I was not treated. After this i went to P.B.M hospital,bikaner as said another relative. While we met to doctor then he advised for cut the legs and also said that this disease cannot be eliminated.
Now on dated again a relative said about "Vishla Agrotech (P) Ltd." so we went there and met to company's doctor. After checked my leg and cyst he said that "this disease called "Naaruwala". Before this any doctor did not tell me the name of the disease. Then doctor gave me medicine for 5 days and after take these medicine I felt better than before and cyst was look also good. Before i could not walk without support but now i can walk without any support. Today i take medicine for one month from the doctor and during this one month ahead I will write about the change.
Review- PART-II
After one month today on dated 01.09.2014 i came back to the "Vishla Agrotech (P) Ltd. and met to the doctor. During the past month decreased swelling in my leg. After taking the medicine two times I've come round to my farm which is the distance of 2 km from my house. My confidence has increased a lot. Before medicine i could not sleep at night but now I can sleep easily. Today doctor gave me Dr.Thanki's Tumcan Capsules for 20 days and also gave "Kachnaar Google" in same ratio after this called again.
Today doctor tested blood and found out an infection in lever and also take x-ray of right leg and found out that i have "Osteoarthritis" disease. Now doctor started treatments of this disease from today. So i will share my next experience with all of you after 80 days.
-: Medical Reports :-