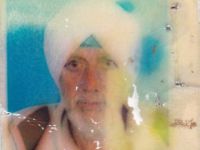 Story Title : BALDEV SINGH-66Yrs-Oral Sac Carcinoma
Patient Age : 66 years old
Date : 03-04-2018
FINALLY HE IS OUT OF VOCAL CARCINOMA HE IS SURVIVING WITH A GOOD HEALTH WORKING IN HIS FARM HOUSE.GOD SAVE HIM BY AYURVEDA.
I am Gurmel singh and my father name is Baldev singh age 65 years from village Mashani dist Hanumangarh. My father has najla disease from last 20 years and without this he has not any big disease in whole life. from the last 10 years he has diabetes and its treatment is going on. My father never torched any kind of tobacco like cigarette,bear. Yet his voice was dead.
So we treated him from local doctors but result was not good. Then on 15.12.2013 we went to doctor Bhawani singh (ENT) from hanumangarh and he told us that there is a lump in your father's head. after this on dated 06.01.2014 we went to doctor Rakesh rawat from Bikaner and he also said about lump so we took a sample of lump and send this for checking. When reports came then doctor said that my father was on 2nd stage of cancer gave advised for go to big hospital. I brought father back home because i saw and heard that patients dead who take radiotherapy and chemotherapy. We gave only medicine of najla to my father.
After some time my brother-in-law told me about "Vishla Agrotech (P) Ltd. at Bikaner so on dated we went there with my and all reports. The doctor saw all the reports and checked pulse and assurance us about father's health. He got some blood test and found out that Eosinophil and ESR were increased. and in the second test found out that uric acid,cholesterol,lever and sugar were high and R.A factor was little positive.
The doctor taken advised from an another allopath doctor and he suggested for take "Zyloric" tab for uric acid and "Ondoc 8mg" for cancer. That day my father's weight was 72.1 kg. The doctor gave us "Tumcan Capsules of Dr.Thanki's and suggested that take it 10 pcs. daily in three parts for 1 month.
And gave us Dr.Thanki's Liver care powder for take one spoon in morning and evening with water. As per rules we have to secure lever.heart and kidney during cancer treatments so doctor gave us "solobon-140 tab and syrup Amlywre for take both like one tab in morning and evening and two spoon two time in a day. In position of appetite take four spoon of sorbiline syrup by dissolving with a half glass of water after lunch and in position of diarrhea take one tab of tab saptran in morning and evening. Having constipation Duphalac -20ml advised to take at bedtime. On dated 31.03.2014 we tested blood in Hanumangarh and found out there is no problem in blood. During these treatments my father seemed to reduce appetite and vomiting in first 2-3 days of the month. He began to fit by taken medicine as per direct by doctor. Now he has no problems and there are no any symptoms of disease.
More Patient Stories About : Cancer, Miracleous, Mouth Cancer, Neck Cancer, Tongue Cancer
Our WebSite :- Vishla Agrotech